With ever rising COVID19 cases and hospitals getting filled with people regardless of age, location or social status; health insurance is now more of a need than a necessity.
HDFC ERGO's Optima Restore & Star Health's Family Health Optima are the most popular plans now available in Indian market. When the former focuses on bundling the most beneficial features and maximum coverage for its customers, latter is focused on lowering premium for maximum penetration to the market. "Which Insurance should I choose ? " or "Which Insurance company is the best?" are the most asked questions by customers and the following comparison will make your decision much easier.
Here the two best and most demanded Family Health Insurance products of two companies are compared for a better understanding;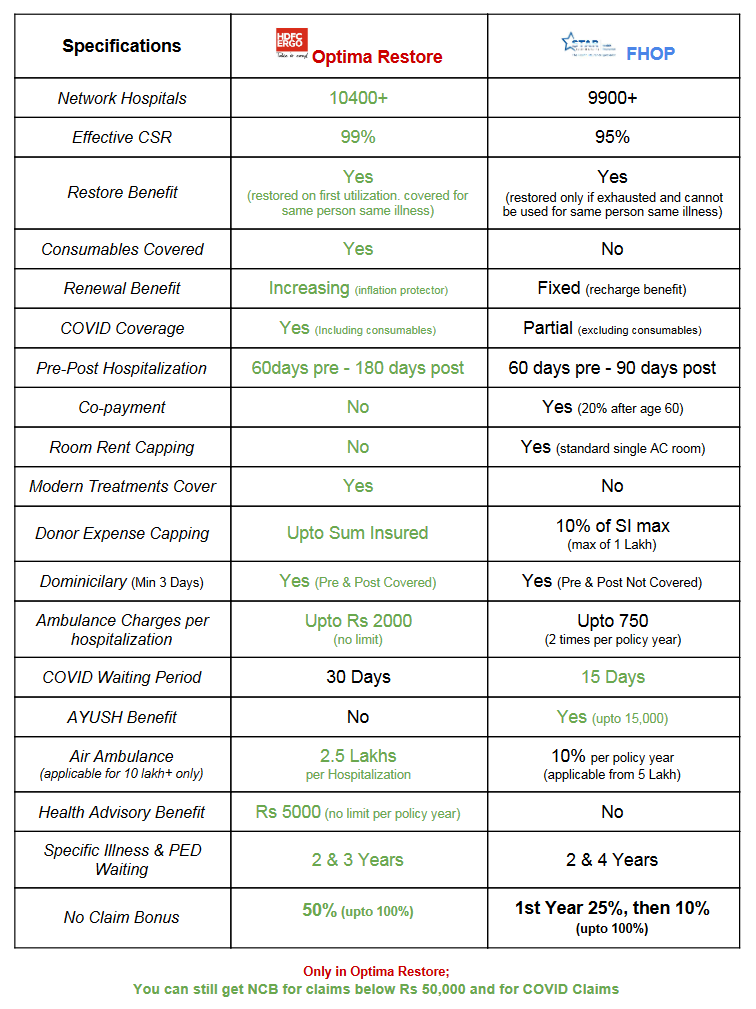 Though there are other remarkable products being sold by various Insurers, based on the largest Hospital Network and Highest Claim Settlements these two Insurer giants rule the Indian market. Though its widely known that HDFC ERGO (formerly Apollo Munich) has the highest paying potential of the two.
FinFwd Recommendation
In the COVID Treatment scenario; with the complete coverage of consumables and the fact that you can still keep your No Claim Bonus, the best choice is definitely Optima Restore. This makes sure you doesn't need a COVID exclusive policy like Corona Kavach, for an extra protection.
And you can still consider FHOP a worthy competition in terms of lower premium; but you should get a Corona Kavach addon to make sure Consumables are covered and this will add a considerable amount to your annual premium, based on the fact that it should be taken 2 times in a policy year.
Free Personalized Health Insurance Consulting @FinFwd.
#KnowYourInsurance !!
Missed Call to 9846233161